Ideas & Inspiration
G ail here! I'm a DIY home improvement enthusiast and former pro photographer. My husband & I have fixed up our house for us. Now I'm blogging about all we've done and learned for you, with lots of tips, resources and advice to improve your home & your life. Grab this freebie: 3 Steps to Organize any Area in Your Home. Then, for a good place to start, click here.
How can I help YOU today?
Follow me (pretty please)!
Ice Maker Extraordinaire! A new kitchen gadget has arrived in my house and I wanted to share, because I love it. Why a kitchen gadget? The chances are pretty good that you do a few more things around your home besides decorate it. My guess is that you spend a decent...
read more
Deal with a Trickle, Not a StreamIt's a bit of a play on words given the title of this post, but a sage man once told me this: "deal with a trickle, not a stream." What does this have to do with simplifying your life? This quote is my mantra in how I deal with...
read more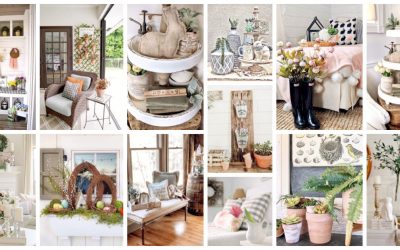 Get Ready to be Inspired!It Started with an Invitation A few weeks ago, I sent out a note to a few Influencer friends. I asked if they would like to join me in a blog post about their best Spring finds. To my delight, almost all of them agreed to join me this...
read more
 I used to think that!Here's my Story I used to feel guilty about spending money on home decor. So, I just didn't do it. I'd shop, pick a piece up, think about it and put it back down. My budget for improving my home was near $0 for a lot of years. Being a practical...
read more
Boot Winter out of Your Home!Simple Spring Decor Ideas That Won't Break the Bank When I'm decorating for an upcoming season, I try to keep things simple and contain costs. Here's what I do: Make a note of the new displays I want to set up. I get my ideas from...
read more
Includes My Secret Formula! It's as Easy as 1,2,3 Have you started to think about decorating for Easter? It's a pretty fun holiday. What could be cuter than little chicks and bunnies in a lovely Easter display? Even all the colors are fun. And I haven't yet...
read more
Here's How I Organized My Pantry!Do any of these sound familiar? Nothing is ever in the same same place in my pantry when I go to find it. There are things in my pantry that have nothing to do with food. I have no idea why. No one puts things back in the right...
read more
Only Purchase What You Love!What's the Benefit? "I don't know my design style" is one of the most frequent laments I hear. So, answering that question is probably a benefit all by itself. But there's more... If you better understand your preferences in terms of...
read more