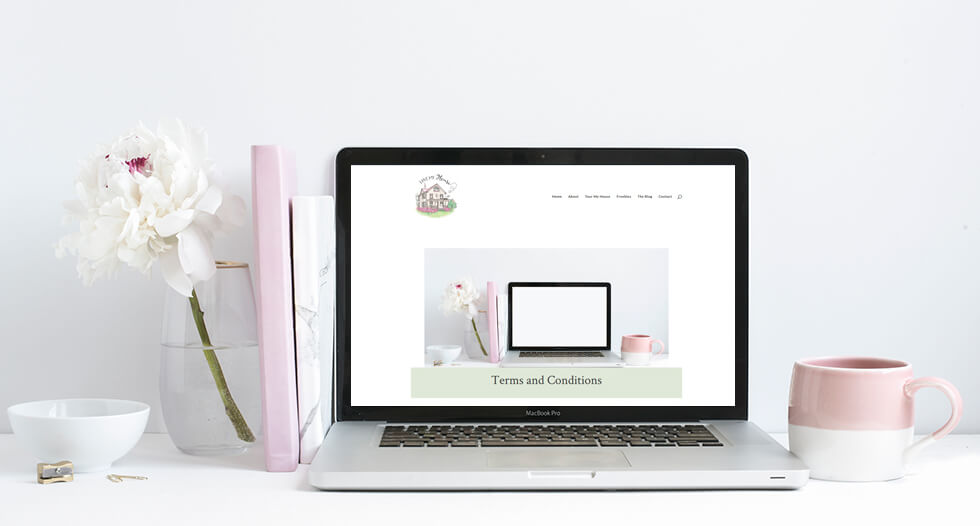 Terms and Conditions
Last Updated: June 11, 2018
Love My House Blog LLC ("us," "we" or "our") owns and operates Lovemyhousebog.com ("website"). Please read these Terms and Conditions ("Terms") carefully before using this website. Your access and use of this website is conditioned on your acceptance of and compliance to these Terms. These Terms apply to all visitors, users and others who access the website.
All persons under the age of 18 are denied access to Love My House Blog. If you are under 18 years of age it is unlawful for you to visit, read or interact with Love My House Blog or its contents in any manner. Love My House Blog LLC specifically denies access to any individual that is covered by the Child Online Privacy Act (COPA) of 1998.
Love My House Blog reserves the right to deny access to any person or viewer for any reason under the terms of the Privacy Policy, which you accept as a condition for viewing the Love My House Blog site. Love My House Blog is allowed to collect and store data and information for the purpose of exclusion and for many other uses.
By visiting this website, you engage in our service and accept and agree to be bound by these Terms. If you disagree with any part of the Terms, then you may not access the website.
1. Intellectual Property
We are the owners of all information contained on this website. We are the owners of any and all copyrights, trademarks, design rights and other intellectual property rights (registered and unregistered) related to the content and work product on this website.
Information on this website may be copied for personal use only. No part of this website may be reproduced, stored, or transmitted in any form or by any means, electronic, mechanical, photocopying, recording, scanning, or otherwise, except as permitted under Section 107 or 108 of the 1976 United States Copyright Act, without the prior written permission of the author. Requests to the author and publisher for permission should be addressed to the following email: gail@lovemyhouseblog.com
We allow link backs to this website, as long as you clearly credit this website and provide a hyperlink back to this website.
We reserve all rights and nothing in these Terms grants you a right or license to use any information provided on this website.
2. Website Content
All content on this website is for informational purposes only. We do not make any representations regarding the completeness or accuracy related to the information found on this website. We are not responsible or liable for the accuracy, usefulness or availability of any information provided on this website. The access and use of any content on this website does not guarantee any specific results and we are not responsible or otherwise liable in any way for your reliance, acts or failures to act with regard to the information presented on this website. You are responsible for your own actions and your reliance upon the content of this website is done solely at your own risk.
Visitor assumes all risk of viruses, worms or other corrupting factors. The website assumes no responsibility for damage to computers or software of the visitor or any person the visitor subsequently communicates with from corrupting code or data that is inadvertently passed to the visitor's computer. Again, visitor views and interacts with this site, or banners or pop-ups or advertising displayed thereon, at his own risk.
Visitor downloads information from this site at his own risk. Website makes no warranty that downloads are free of corrupting computer codes, including, but not limited to, viruses and worms.
By viewing, using, or interacting in any manner with this site, including banners, advertising, or pop-ups, downloads, and as a condition of the website to allow his lawful viewing, Visitor forever waives all right to claims of damage of any and all description based on any causal factor resulting in any possible harm, no matter how heinous or extensive, whether physical or emotional, foreseeable or unforeseeable, whether personal or business in nature.
Although I am have experience in home remodeling and design, I am not an expert and nothing on this website constitutes home remodeling or design advice. We will not be liable for any errors or omissions and will not be responsible for any losses, injuries or damages related to your reliance on this website. Visitor assumes all responsibility for any home projects he or she takes upon himself or herself based on advice or information found in the Love My House Blog site.
3. Blog Comments or Use Generated Content
Any user generated content on this website (i.e. through blog comments or social media posts) will be publicly available to other users. You own the rights to any content that you post on this website, but agree to give us a license so that this content can be shared on this website.
We reserve the right to remove any content that we determine to be unlawful, inappropriate, offensive or otherwise objectionable or violates any party's intellectual property or these Terms. By posting or submitting any material or information to this website, you agree to grant us an unlimited license so that this content can be shared on this website. If any user generated content is found to be copyright infringement, we will respond to and comply with any DMCA Take Down Notices.
4. Purchases
If you wish to purchase any product or service made available on the website, you may be asked to supply certain information relevant to the purchase. Purchases on this website are done through an outside vendor, Square, and we make all attempts to provide secure transactions. You may be directed to an outside website for your secure transaction and we make no warranties or representations regarding the security of the outside vendor. We do not collect or retain any of your personal payment information.
5. Payment Policy
See the Privacy Statement regarding how secure transactions are processed on our website.
6. Termination
We reserve the right to terminate any users for abuse of these Terms. We reserve the right to remove unlawful, obscene, inappropriate or otherwise undesirable shares or comments on our blog or social media channels.
7. Governing Law
If any part of these Terms is held to be invalid or unenforceable, that portion of the Terms will be construed with applicable law and the remaining portions will remain in full force and effect. These Terms are governed in accordance with the laws of New Hampshire and the United States.
8. Links to Other Web Sites
This website may contain links to third-party websites that we do not own or control. Once you leave our website or are redirected to a third-party website or application, you are no longer governed by these Terms or our website's Privacy Policy.
We have no control over, and assume no responsibility for, the content, privacy policies or practices of any third party websites or services. You further acknowledge and agree that we shall not be responsible or liable, directly or indirectly, for any damage or loss caused or alleged to be caused by or in connection with use of or reliance on any such content, goods or services available on or through any such websites or services.
9. Warranty Disclaimer
The information contained on this website is provided "as is," without warranty of any kind. We disclaim all warranties, whether express, implied, statutory or otherwise, regarding this website, to the fullest extent of the law. We make no warranties that access to this website will be uninterrupted or error free. You assume full responsibility and assume all risks when you access this website, download any files, use any information or content or participate in any other manner.
10. Limitation of Damages
In no event shall we (or any affiliated parties) be liable to you for any loss or damages resulting from the use or display of your user generated content, you use or access to this website, the website generally or any other interactions with the website or us. You hereby release us from liability or responsibility for any claims related to your use, access or reliance of this website.
11. Affiliate Links
This website may include "affiliate links," wherein we receive a small commission if you make a purchase using the link. However, all opinions are our own and we only endorse or link to products and services that we genuinely recommend.
12. Updates
These Terms and Conditions may change from time to time and all updates will be posted on this page.
13. Questions and Contact Information
If you have any questions about these Terms, please contact us at: gail@lovemyhouseblog.com.