7 Tips to Update your Displays for Christmas
Here are 7 Tips to Update Your Display for Christmas
This post isn't about big things like Christmas trees and villages. The kind of decor that you put up only at the holidays.
Displays is the focus of this article. Wall galleries, vignettes, tiered trays, decorative shelves, coffee table trays, and more. These are the little spaces that, if you're like me, you cultivate all year. Add a piece here, move a piece there. 
Then the holiday season rolls around. What do you do with your displays? Change them out entirely? Change pieces of them? I created this post to share some ideas on how you can update your display for Christmas. Without breaking the bank, by the way.
Here's what I did
This month I took my living room gallery wall (see my original blog post here) and I updated it. It was time. My wall was crying out for some Christmas magic.
When I was done, I liked the changes so much that my only question now is what am I going to do after Christmas? Go back to what it was? Upgrade for Valentines Day? Wait for Easter? This, I contend, is why home decor will always be a thing. And, why there will always be another blog post. There's always a new event around the corner!
But, I digress.
Once I finished the changes I thought about what I'd done. I knew there was a teachable moment here. At least, I knew that I had uncovered some ideas that I wanted to share.
As a result, I took my changes and turned them into tips. Whatever display you have, these ideas can apply almost anywhere.  Check them out and then dive right in and inject some Christmas spirit into your own creations. a piece at a time.
It will be up to you to decide what happens when January rolls around 😉 
After Christmas Upgrade
Before Christmas Upgrade
A small disclaimer about color.
In this particular space, I kept my holiday colors a little muted, due to the colors that are all around the area. Bright red and green just didn't seem to work with the colors that were there. These are personal decisions we all make when we decorate.
So, while I may suggest you add a figurine or a wall piece, the colors and style of the piece are entirely up to you. Your displays certainly don't need to be a copy of what I have done. Make them your own!
Summary
Click on each number to go directly to the tip below.
1. Create your own sign art.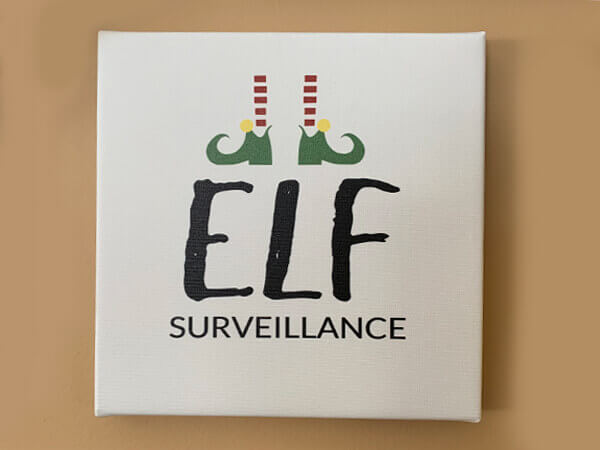 The Sleigh Ride sign, Morello Christmas sign and Elf Surveillance sign are all my own creations. I buy signs from talented designers all the time, but sometimes I can't find the size, quote or color combination I want. In that case I'll do my own design. It's also a good way to save a little money because it's cheaper to print your own.
Don't have design skills? There are lots of ready-made printables available. Just download them and print them yourself and you'll save money you can spend on holiday gifts!
Here are some of my favorite holiday printables
These are not free, they are for sale, most are in the $2-$5 range. They all have immediate downloads. Click the links below to go directly to the product.
Tips on where to print your files
For canvases, check out Easy Canvas Prints. They start at size 8×8 (that's inches), they are reasonably priced, produce a great product and have fast delivery. Love them!
For traditional prints, MPIX is my first choice. They are a subsidiary of a pro lab I used to use and always deliver a great product and stand by it.
Other print choices: check out your local Staples, Walgreens or FEDEx. I've also had good luck with Shutterfly.
Sometimes I google online printing just to see if another service is offering a great deal. So long as they stand by their product I'll give them a try.
2. Purchase a Sign you Love
The Sweater Weather sign was purchased from Dandelion Wishes Home. I have made purchases from all the following additional shops. They offer great products and they are reputable and responsive:
I have not purchased from the following shops. But I have heard good things about them and they offer products I love:
3. Change out your florals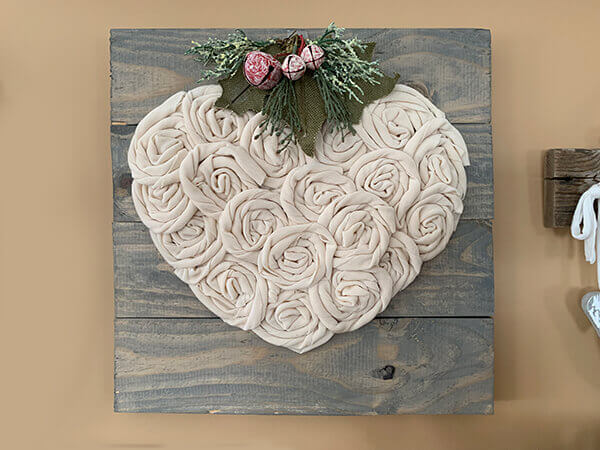 I put away all the Spring-y flowers from the summer and placed evergreens and Christmas-y touches in their place. Usually I shop for new florals at the end of the season (great deals!) and I keep boxes of seasonal florals in the attic sorted by season. There are more florals in my attic now than I'll probably ever need but I keep adding to it to keep things fresh. And because shopping.
Hang or clip ornaments, add bows to existing pieces, hang some Christmas bells, sit a gnome on a shelf (my personal fav this year), for just a few examples.
5. Include some nostalgia
I love to keep at least a few items around from Christmases past. We've had the D (Dom) and G (Gail) ornaments forever. The little snowman was a DIY that our son created in grade school, some 25 years ago. It's always good to have memories within reach.
I like to mix up textures as well to give a display depth. Adding a sign that isn't a wall piece, picture or canvas but maybe metal creates interest and depth. And it sends a clear message!
7. Transform something with paint
The letters H and the second l were a more netural color so I threw a little paint on just those two letters. This way they coordinate a little better with the wall.
In conclusion, changing things up not only keeps your decor fresh, it helps you celebrate the season. It's also kinda fun.
One thing I always do is look at what I did last year (no point in reinventing the wheel!) and make changes. That way I don't start from scratch. In this case I hadn't made any holiday changes to the wall so there wasn't a choice, but next year will be different.
The next thing I always do is shop my house. There are always little treasures that I have put aside or they may be lurking in another display. Moving things around, re-using and re-purposing keeps things fresh and keeps costs down.
Creating something yourself (Pinterest and Instagram are full of DIY ideas) is also another way to keep costs down and to personalize things.
Most of my actual shopping is done over more than one day. It's near impossible to find several gems that you love in one shopping expedition. I start looking as soon as holiday items start appearing in shops and I often shop after the holidays. That's always a good idea, given the steep discounts.
So now all I have to do is sit back and enjoy my 'new' gallery wall. And decide what to do after the holidays once that day arrives.
How about you?
If you've changed up a display for the holidays, I'd love to hear about it what you've done. Please share in the comments below!