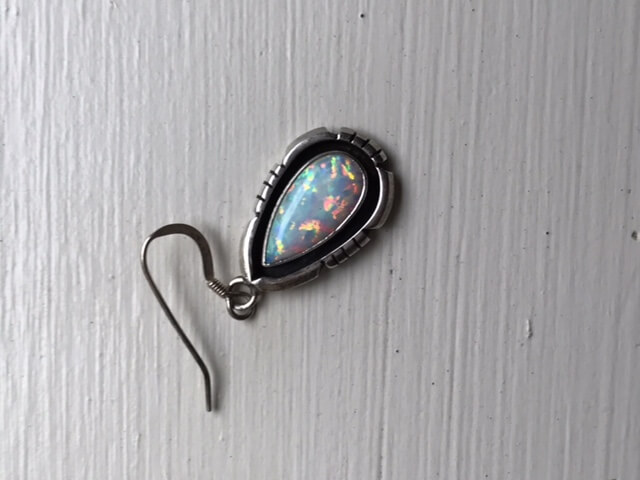 Lost Earring – a Short but Magical Tale
This is a story about something a little magical that happened, all because I decided to renovate a room.
Meet my Sister
My sister, Lynn and her husband, Bob are great companions of ours.
This is a (selfie) from a recent mini vacation. That's Lynn on the left, me in the middle and my niece, Rebecca on the right.
Lynn and her family live on the Cape so a visit either way is an overnight event.
They used to stay in our former guestroom when they visited.
Once renovations started, we completely re-did that room and it became the office/music room. Visit the Tour my Music Room page to see the amazing transformation in that room.
We moved the guestroom down the hall, to a room that was a smidge bigger. To view the new guestroom, visit the Tour my Guest Bedroom page.
Earring Found
When I started work on the old guestroom, I cleaned out the cast iron grate on the floor. And found an opal earring dangling on the inside of the grate.
It wasn't mine.
The thought crossed my mind that it could be Lynn's, but she'd never mentioned losing it. I almost threw it out, I was in a throwing out mode and it was only 1 earring. I figured the other was probably long gone, whatever the situation.
But I put it aside and continued finishing the rooms.
Reunion
It was weeks before we finished the new guestroom and Lynn and Bob came to visit.
In case the earring was hers, I wanted to surprise her so set it on her bedside table. She saw the earring and was speechless. It was hers, she had lost it years ago and could never pinpoint when or where she lost it.
The amazing thing was that she never threw out the other earring.
She had saved it all these years in the hopes that its mate would turn up.
Now that's faith.
Here the earrings are, reunited.
I am fond of saying that life can be funny sometimes.
In this particular case, I think it was just a little bit magical. And all because I decided to do a little work on my house.